Report from Programme Committee (2008 – 2010)
Co-Chairmen: Margaret Chan, Nancy Chan
During the past 2 years, we invited a number of distinguished speakers from different sectors to speak on a variety of topics covering finance; health & beauty; etiquette and tradition; young women's achievement and mental illness.
Finance
On 5th August 2008, shortly before the global economic crisis fully unfolded , we had the privilege of watching the presentation of Mr Burton Malkiel, a well known Professor of Economics at Princeton University, on his new book 'From Wall Street to the Great Wall: Investment Strategies to Profit from China's Booming Economy'. The professor gave an anecdote of Chinese history, elaborated on the rising economic power of China and its impact on the financial world, and illustrated some investment strategies going forward.
On 3 November 2009, Professor Edward Chen gave an interesting and stimulating talk on 'The Global Economic Outlook after the Financial Tsunami'.
Members reflected on the professors' wisdom and messages elucidated in the talks.
Health & Beauty
Dr Lim Lit Sing, PhD in Biotechnology (Cosmetology) and ex-professor at University of Health Science in Honolulu, spoke on 3 Feb 2009 on 'Outsmarting Your Fat Cells after age 30'. Dr Lim authored two books. His advice, some unconventional, was insightful and useful.

On 7 May 2009, the late Ms Doreen Leung shared with us how she managed the ups and downs of her life. The topic was 'How to be Happy Even in Difficult Times'. Members found her talk motivational and inspirational. She also gave us useful tips on how to stay young and healthy.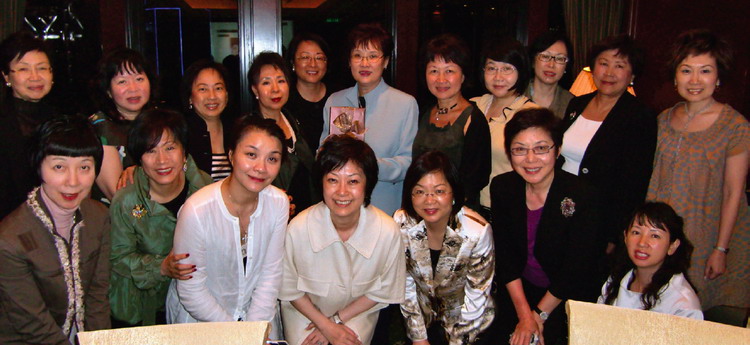 Tradition and Etiquette
We learned from our Zonta member, Ms Wendy Siu of Heather and March, on 7th July 2009 about 'Traditions and History of English Afternoon Tea, What Tea and Food to Serve, What Table Setting and Etiquette required'. Her talk was followed by sharing of her recipes and home made scones & tea bread tasting. Everyone had enjoyed her session tremendously.
2008 Young Women in Public Affairs awards
Our nominee, Miss Tsang King Yi, Elina of Sacred Heart Canossian College, was selected by the Zonta International Panel as an International Recipient of the 2008 Young Women in Public Affairs awards. 28 applicants from 15 countries were considered for the final 5 International awards and King Yi was one of them. She received US$3,000.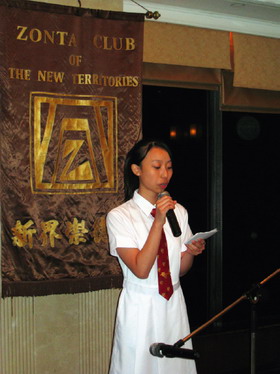 King Yi was invited to share her experiences and achievements in community services at our meeting of 2 September 2008 where her mother and teachers were present. She also played Liu Qin for us at the gathering.

We were very proud of her achievement and for putting Zonta NT, Hong Kong on the International Zonta platform.
Mental illness
On 6 March 2010, Ms Caroline Fei-Yeng Kwok, M.Ed. writer, teacher and psychiatric survivor, gave a lively and touching talk on her personal experience as a mental patient, the inner world of someone with bipolar disorder and stigma associated with mental disorders. She recovered from her illness and has written a book on her experience, called 'Free to Fly- a Story of Manic Depression' that gives a message of hope from one who has been there and back.
It has been an enriching 2 years! We wish to give special thanks to all speakers for sharing their knowledge and invaluable experiences with us, and to our members for supporting the Programme Committee in the past 2 years.