Report from Social Service Committee (2006 – 2008)
Co-Chairmen: Eva Chan, Lilian Lau
In these two years, the Social Service Committee had identified and sponsored the following worthy projects to support women, elderly, children, disabled and the underprivileged. Guiding principles are discussed in social service meetings to identify more focused and worthy projects in coming years to help three main female groups, including the underprivileged, problematic (subjects of violence, divorced) and those in need of development. Job finding and professional training help advance women status in the community. Also we continue to work with previous partners and aim at keeping direct close contact with beneficiaries.
A visit with Dog Show for the children of Evangel Children's Home on 3-Feb-2007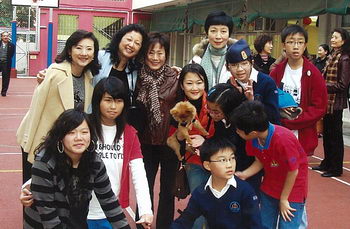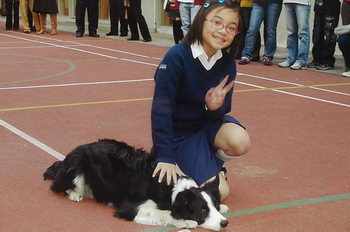 Evangel Children's Home, founded in 1956, serves and educates children and youth from broken families. The Club donated HK$50,000 to support the Home's publishing of ten thousand DVD in preceding year. Continue to stay in close communication with our beneficiaries is one of our aims. Fourteen Zontians visited the Evangel Children's Home just before the Chinese New Year in 2007 to show that we really care. We brought gifts and red packets to the children and had great fun watching the children's performances. These was followed by the excellent Dog Show by the HK Canine Working & Agility Club.
Elder Ring and Personal Emergency Link System
We donated HK$ 200,000 to sponsor the Senior Citizen Home Safety Association to install Elder Ring System in the homes of those in need with priority given to singleton elderly females. Through the system, they could have free access to a 24-hour emergency service.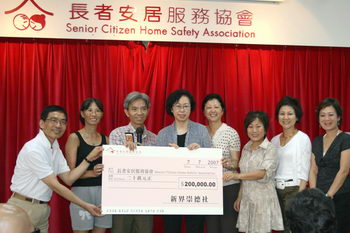 On 7-July 2007, five Zontians paid a visit to a singleton elderly lady in Kwun Tong. Through her vivid description, we learnt of how she made use of the system when she sustained a fall in the apartment. She expressed her gratitude to our Club and thanked us for our continued support of the singleton elderly like herself.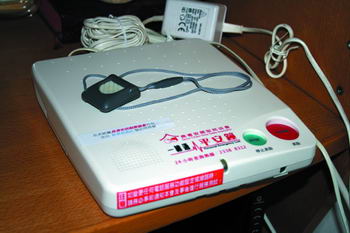 "Innovations and Solutions focused"- Regional Conference on Women with Disabilites
In January 2008, we donated a sum of HK$ 30,000 to subsidize the registration fees of about 200 local delegates to a three-day Regional Conference organised by The Association of Women with Disabilities, The Rehabilitation Alliance Hong Kong and The City University of Hong Kong. This Conference aims to network women with disabilities in the Asia-Pacific region to discuss of important themes like poverty, health, violence, family, marriage, arts, media and image. Through participation, the local delegates shared their views and found aspirations for improving the living environment and life choices for disabled women in Asia. Our President attended the Opening Ceremony and found the Conference very meaningful.
Marycove Centre Assessment Package
Mary Cove Centre, run by the Sisters of the Good Shepherd, is a worldwide organisation dedicated to serving girls and women marginalized by the society and deprived of love and hope.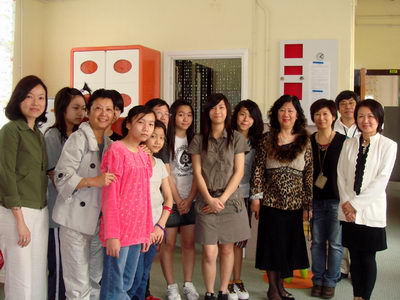 With teen problems becoming more critical in recent years, there is an urgent need to develop an effective way in coaching the young girls with emotional disturbances and behavioural outrages. The Helix project was thus developed to help staff to work out a direction and path on how to support the girls. We sponsored a sum of HK$ 114,000 to help develop an assessment tool in identifying the need profile of each girl and enables the Centre to formulate intervention strategies to cater for individual needs.
Home repair & maintenance for the needy Elderly
The Club donated $100,000 to our long-term partner St. James' Settlement in support of their persistent effort in carrying out minor home repair works for families in need. We gave priority to the elderly and singleton females. We have been supporting this good cause as the works are carried out mainly by volunteer workers and therefore, our donation, and that of our patrons, are used in the most efficient and effective way. Minor repairs like fixing a loose screw, replacing door handles, adding a grab bar over a water closet, fixing broken tiles, changing a light tube, etc, were carried out in the homes of the elderly. We fully appreciate the co-ordination work by the Continuing Care Team of St. James' Settlement.
Provide hot water heaters for the Elderly
The Club also donated electric water heaters to elderly families recommended by St. James' Settlement. This project is another that helps enhance the safety and convenience of their daily living.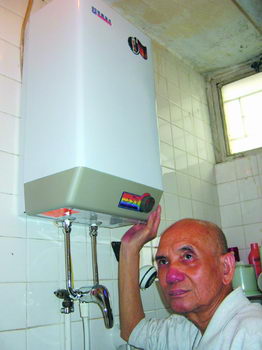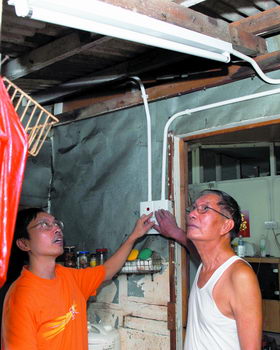 Employment Resource Corner of the Tin Shui Wai Women Assoication Centre
We are pleased that since our sponsorship of the employment facilities in the Tin Shui Wai Women Association in 2005 – 2006, the Tin Shui Wai area in general has been receiving a lot of attention and support from the Government and the business sector of Hong Kong. The Association is now busy with activities in employment and associated facilities like child care for the working mothers in the area. The Club will continue to give support to the Association as and when required.
Hong Kong Employment Development Service Zonta Club of The New Territories Employment Resource Centre, Yuen Long, New Territories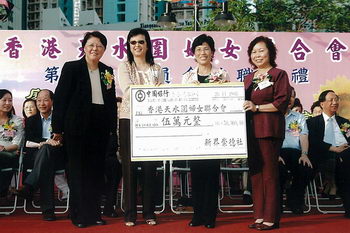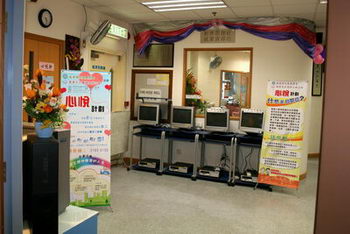 In co-operation with Hong Kong Employment Development Services, we see good results from our $400,000 sponsorship in 2005/2006 for the establishment and running of The Zonta Club of The New Territories Employment Resources Centre in Yuen Long. The Centre provides vocational training designed for target groups including new arrivals, ethnic groups, and youths of low education and skill. Courses covering domestic help, personal care, and catering are developed. Case counseling, placement and post-placement support, are also given. We are pleased that our partnership and support to the Yuen Long area will continue for 10 years.
Scholarship and Bursaries for female students of Open University
We continue to sponsor $20,000 for 2 bursary grants to female students with financial difficulties every year. We also donate a $5,000 scholarship to a female student who excels academically.
24 hours Hotline service to the Shek Kip Mei Lutheran Centre for the Blind
The Club sponsored the setting up of the hotline service for the blind years ago. We now continue to sponsor the equipment renewal and its computerization thus enabling the service be extended to the visually deficient sector through internet. We envisage that through internet, the service can benefit the visually challenged all over the world so long as they understand Chinese or Cantonese.