Report from Fellowship Committee (2002 – 2004)
Co-chairmen: Pasy Ip, Beatrice Wen
The Fellowship Committee is proud to announce that we have held twenty five fellowship events over the last two year period 2002 – 2004, averaging at least one event per month. Attendance rate of these twenty-five events was very high, averaging 15 attendants per event. In fact there were six events, each of which was attended by more than 20 members. The types of fellowship activities were also significantly original. Other than indulging ourselves at great eating places, arrangements were made for four overseas trips, attending musical plays as well as participating in varieties of concerts and healthy dance classes including line dance and ballet pilates.
In particular, to celebrate our Club's twentieth anniversary, we kicked off the year by holding a series of fellowship dinner gatherings at some of the most sought after private dining restaurants in Hong Kong including Xi Yan, 131 French Restaurant, Luk Yu Chinese Restaurant, Chan Yam's Kitchener, Eatwell, Ingredients and pot-luck dinner at Janice Kwan's residence.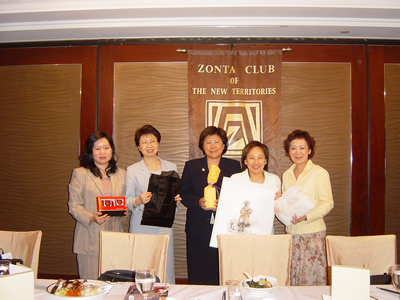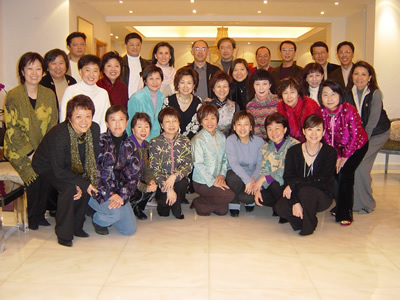 In November 2002, thirteen members joined a 3 days trip to Shanghai where we just indulged ourselves in sumptous Shanghaiese food and interesting shopping. On average, each member bought over a dozen number of items! We even managed to spend an evening at the famous dancing hall – Paramount. It was a really enjoyable trip for all those who attended. Then, nine of us participated in the joint Zonta function trip to Zhu Hai organized by the Liaison Office of the Central People's Government in the Hong Kong SAR to celebrate the International Women Day in March 2003. Again, it was quite a successful trip as Zontians from all Hong Kong Clubs were able to unite together to perform on stage and fully manifesting our Zontian spirit. Then, in February this year, six of our members attended the area 2 meeting in Singapore. Again, it was a great time for us to meet with other fellow Zontians not just from Hong Kong but the entire Area 2. Finally, ten of us went to Mission Hill at the invitation of Karen Wong to visit the beautiful villas there and enjoyed great spa activities as well as golfing.
A musical – "Singing in the Rain" was attended by twenty-two Zontians in October, 2002 where the best seating with discounted price was arranged. Seven other concerts : two held by Paddy Lui, one by Idy Lai and Elizabeth Cheng, one by Liza Wang, one by Project Sepal, one by Charity Leap and finally a concert by Opera Hong Kong were also well received and participated by our members.
The committee has also successfully organized a line dance course which runs every Wednesday evening at the Heavenly Dance Studio since November, 2002. The course started off with 15 members and has been running continuously for 18 months. We still have six chore members attending the Wednesday class. Another healthy activity was sponsored by our new Zontian Lili Tsang whereby all members were given 2 months' free trial at her ballet school in Causeway Bay for the adult ballet pilates classes. Anyone who has tried it, liked it! We've definitely seen transformation of our Zontians' posture and figure!!
Last but not least, charity was extended when we sponsored 1) two tables at the Valentine Day's Fund-Raising Ball held by the Riding for the Disabled Association and 2) the Concert for Project Sepal held at the Government House and organized by the Institute of Mental Health (IMH), Castle Peak Hospital in March 2003.
All-in-all, the fellowship committee is very encouraged and happy with the high participation rate at all the activities held during the two year period. We believe that Zontian spirits are running high among all members of our club and strong closed ties have been established as a result.